Alright, scratch all of the above for the Zero Crossings mode. Here is a new version (updated in the repo) that directly uses an estimate of frequency in order to set the Controller value. Previously I was thinking in terms of a specific distortion effect, so I used the zero crossings directly and made the Controller into a pseudo LFO, but by using frequency instead of raw zero crossing count, it made the Controller much more usable.
Here's a demo.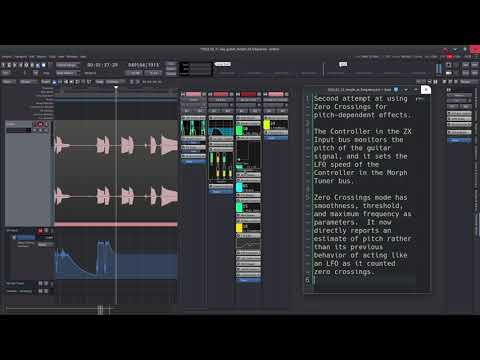 Notice that the Controller's value is being written to the automation lane on the fly. It is a bit noisy as expected from a crude pitch detector using zero crossings, but it seems to be tracking frequency well enough. At the beginning of the ZX Input bus, there is a band-pass filter to help out the zero crossing detector.
Also, unlike the previous video, there is no cheating happening here by swapping the audio. This video shows the actual live recording of the playthrough, crackles and all, that was captured by OBS, even at near 100% DSP usage.